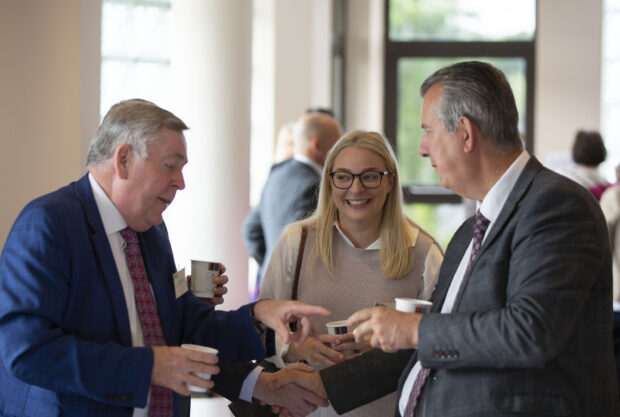 Judith Hanvey will attend four Board meetings a year as part of the 12-month Boardroom Apprentice scheme.
The Boardroom Apprentice scheme is a learning, development and placement programme to help those who would like to serve on a public or third-sector board to learn and gain experience before they take the step.
Judith hopes to gain valuable insight into how the Food Standards Agency (FSA) develops policies as a Non-Ministerial Government Department, delivering on its mission of food you can trust.
Following the sad death of Queen Elizabeth II, my first Board and Business Committee meetings due to be held in Belfast were postponed and moved online. Though a small thing in the scale of the momentous event, I was disappointed to not meet the Board members in my home city.

The meetings, therefore, took place via Zoom. There were lots of breaks to reduce screen fatigue and the experience of home working helped to concentrate throughout the meetings! I learned a lot about the importance of keeping to timings and when it is appropriate to speak up as there is a lot to get through on the agenda. It will be interesting to compare the next Board meeting when we meet in person.

There is quite a lot of reading and preparation in advance of every meeting. Another Board member reassured me that I am not expected to know everything, as it is the executive team who are the experts. Everyone was very kind and supportive.

My next meeting with Board members will be in Oxford for a Board retreat, then my second full Board meeting is in early December in London. I am very much looking forward to both trips. I've been working from home for the last two-and-a-half years because of the pandemic and I'm looking forward to getting back to travelling and meeting people in person.

By profession, Judith is a registered nutritionist. She is the lead for food in schools in Northern Ireland, working between the health and education sectors. She has two young sons who also keep her busy.
Judith says she wanted a new challenge and applying for the Boardroom Apprentice scheme is an ideal way to learn boardroom skills and is also about building confidence in herself and her abilities.
I've been in my current role for ten years and while I still thoroughly enjoy it, I am ready for new learning opportunities. The boardroom apprentice scheme offers this along with the chance to meet new people, gain new skills and apply my own experience in an area I am very passionate about.
"I didn't know there was so much that the FSA is responsible for"
The fact that the FSA is a host Board this year clinched it for her.
I have been so impressed by the FSA as an organisation so far – although I work in the food and nutrition field, I didn't know there was so much that the FSA is responsible for. All the staff I have met so far seem to genuinely care about their work and happy to work here.
Susan Jebb, FSA Chair says:
I warmly welcome Judith as our first Boardroom Apprentice. This is a fantastic opportunity for the FSA to be part of shaping the next generation of board members and I look forward to our continued participation in the Boardroom Apprentice Programme as it rolls out across the UK.
Maria Jennings, FSA's Director of Regulatory Compliance, People and Northern Ireland says:
I'm delighted that we are hosting Judith on this scheme and look forward to watching her develop her boardroom skills.  We will certainly benefit from Judith's contribution in our meetings.