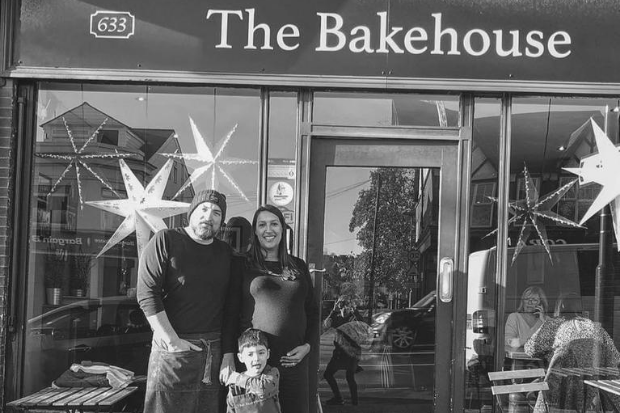 Interview with Rosea Poynter, owner of The Bakehouse, Nottingham
In recent months, in order to continue operating during COVID-19, many established food businesses have diversified into food delivery, takeaway or online sales. There has also been an increase in people cooking from home and selling food locally or online.
As part of the Here to Help campaign, we have spoken to businesses across the UK to find out about the range of challenges facing food businesses and their tips on how to succeed.
What was your business like pre-lockdown?
We started The Bakehouse in November 2016. It was launched as a dine in café and pop up retail food market using the best local suppliers. My husband Craig was looking for a new challenge, and with 15 plus years in Michelin star restaurants, food manufacturing and creating new food concepts for ready meals, we felt we had a great base of knowledge.
Craig had a passion for baking and realised there was a gap in the market in Nottingham for traditional bakeries. So, we sat down and wrote the business plan whilst living in intensive care with our premature son Fred – it kept us distracted and gave us a purpose – good things come out of adversity!
Pre-lockdown, we could seat 27 people inside and 8 outside. We provided tapas in the evening and monthly supper clubs with live music supporting up-and-coming local artists. We also ran biscuit-making classes at Christmas and hosted local school trips where children learnt how to order and pay when eating out. We also support the Refugee Forum by donating any unsold bread to help feed local refugees. We're part of the community in Nottingham and are a central place that people can meet and socialise.
What changes did you make to your business due to COVID-19? What worked well and what did you learn?
When COVID-19 struck, we paused as we wanted to make sure we took the right strategic steps. We knew this would have a big impact on our business.
Bread-making kits
Firstly, we re-opened as a retail shop selling bread and bread-making kits with instructions. We knew people couldn't get hold of flour themselves at the time, and some parents needed to keep their children occupied, as well as learn a new skill. Within 3 weeks we sold over 1k bread kits! We had to furlough our staff so asked close family and volunteers to safely help us create the kits.
Adapting from a 'dine-in' café to a 'take out' bakery
We'd been looking for a bakery site for a while to bake and sell from, but hadn't found the right premises. With social distancing set to continue, we knew we didn't have space for our customers to dine inside safely. Because of this we decided to convert our café into a bakery.
Luckily, we already had some of the bakery equipment in storage so it was a case of redecorating and making it safe from an environmental health point of view. We then purchased any extra bits we needed. We worked into the night for two weeks and did the build ourselves to keep costs down and retain knowledge. That way we know how to fix everything.
We're now a bakery with a takeaway service. We use a reduced menu and a food market with outdoor seating. Adapting our business in this way meant we've been able to stay true to our passion for bread and have made the most of our skill-set. This will hopefully mean that we can stay open, even if the situation changes again.
We've noticed that COVID-19 has made people cautious about where they're buying from and how their food is made. They can see our bakery kitchen on site, and they can talk to us about the products. We hope that this transparency will give our customers confidence when buying our food.
Adapting how we sell
We're now selling the bread to other cafés and restaurants. We've also run an artisan pizza collection night and sold 70 pizzas in 2 hours.
In the future we hope to provide bread classes, teaching people how to make sour dough or bread making accompanied with a beer as part of stag and hen parties. We have skills we can share.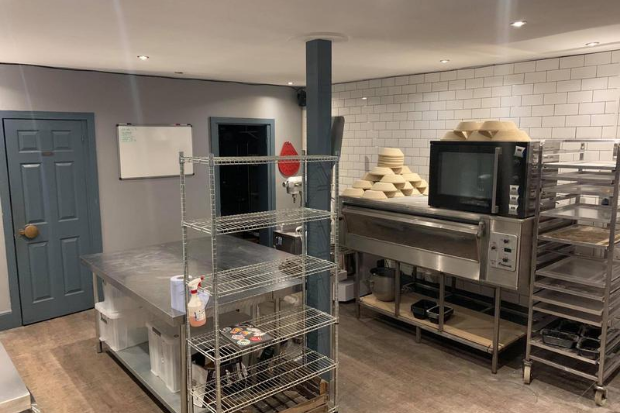 What challenges did you experience?
Unfortunately we've had to make redundancies. As a small, close-knit business, it's been tough and emotional, and something that we didn't want to do. We hope that the changes we have made to The Bakehouse will help us to succeed in the future.
Being allergy safe
Even though we changed our menu and switched to a bakery due to COVID-19 we still decided not to offer gluten-free bread due to cross-contamination of flour particles. We've also had to look for new suppliers due to businesses sadly closing, so we needed to understand all the ingredients in the new items and make sure we could answer any customer queries. As Craig used to work in food manufacturing we have great knowledge on allergens and labelling to make sure our customers are safe.
Social distancing, hygiene and reassuring our customers
We're aware our customers want us to be more vocal with how and what we're doing differently due to COVID-19. As well as following social distancing rules, we have chosen to supply our staff with PPE, so that they feel safe. We also know that customers want to see us wearing it too for reassurance.
To keep customers socially distanced we use a one-in, one-out system. We provide hand gel near the card reader and politely ask customer to only touch items they're buying.
We've continued to keep our customers and followers on social media updated on what we're doing and how, so they feel reassured and able to give us feedback. As the pandemic is new to all of us, listening to our customers is vital.
What do the next 6-12 months look like for your business?
We'd like to expand the wholesale element of our business, keeping going as bakery and getting the bread-making classes up and running. And of course, still offer something special to our customers, but in a slightly different way. Cleverly adapting our business hopefully means we can weather this storm.
Council support
Acting Head of Environmental Health and Trading Standards at Nottingham City Council, Paul Dales, said:
'Supporting local businesses adapt has been a particular priority for the Food Safety and Standards Team over recent months. We have helped interpret complex hygiene and labelling standards to ensure that food businesses could safely adapt their customer offer.
I am delighted that The Bakehouse has been successful in the changes made to their business and that they continue to provide essential local food services to the community.'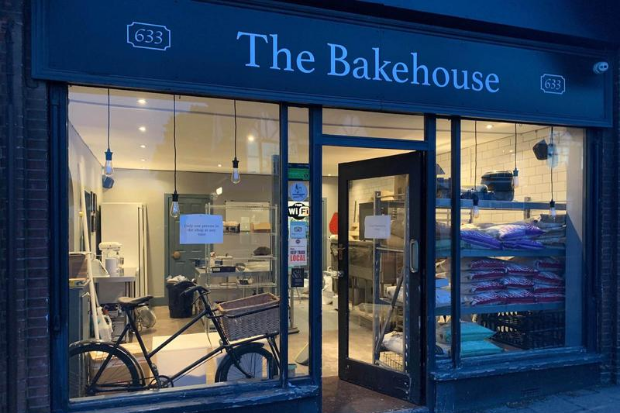 The Bakehouse - Troi caffi yn siop fara er mwyn gallu parhau â'r pobi
Cyfweliad â Rosea Poynter, perchennog The Bakehouse, Nottingham
Beth oedd eich busnes cyn y cyfnod clo?
Fe ddechreuon ni The Bakehouse ym mis Tachwedd 2016. Cafodd ei lansio fel caffi 'bwyta i mewn' a marchnad fwyd pop-up gan ddefnyddio'r cyflenwyr lleol gorau. Roedd fy ngŵr Craig yn chwilio am her newydd, a gyda dros 15 mlynedd yn gweithio mewn bwytai seren Michelin, yn cynhyrchu bwyd ac yn creu syniadau newydd ar gyfer prydau parod, roeddem ni'n teimlo bod gennym ni sylfaen dda o wybodaeth.
Roedd Craig wir yn mwynhau pobi a sylweddolodd fod bwlch yn y farchnad yn Nottingham ar gyfer siopau bara traddodiadol. Felly, aethom ni ati i lunio'r cynllun busnes tra'r oedden ni'n byw mewn adran gofal dwys gyda'n mab Fred, a ddaeth i'r byd yn gynnar. Roedd y fenter newydd yn ein cadw ni'n brysur – weithiau mae pethau da yn dod o sefyllfaoedd anodd!
Cyn y cyfnod clo, roedd 27 o bobl yn gallu eistedd y tu mewn i'r caffi ac 8 y tu allan. Roeddem ni'n gweini tapas yn y nos yn ogystal â chynnal clybiau swper misol gyda cherddoriaeth fyw gan artistiaid lleol newydd. Roeddem ni hefyd yn cynnal dosbarthiadau gwneud bisgedi adeg y Nadolig ac yn cynnal tripiau ysgol yn dysgu plant sut i archebu a thalu wrth fwyta allan. Rydym ni hefyd yn cefnogi'r Fforwm Ffoaduriaid trwy roi unrhyw fara dros ben i helpu i fwydo ffoaduriaid lleol. Rydym ni'n rhan o'r gymuned yn Nottingham ac yn fan canolog lle gall pobl gyfarfod a chymdeithasu.
Pa newidiadau wnaethoch chi i'ch busnes oherwydd COVID-19? Beth weithiodd yn dda a beth ddysgoch chi?
Pan darodd COVID-19, fe wnaethom ni oedi gan ein bod ni eisiau gwneud yn siŵr ein bod ni'n cymryd y camau strategol cywir. Roeddem ni'n gwybod y byddai hyn yn cael effaith fawr ar ein busnes.
Pecynnau gwneud bara
I ddechrau, fe wnaethom ni ail-agor fel siop yn gwerthu bara a phecynnau gwneud bara gyda chyfarwyddiadau. Roeddem ni'n gwybod bod pobl yn cael trafferth dod o hyd i flawd ar y pryd, ac roedd angen i rai rhieni gadw eu plant yn brysur, yn ogystal â dysgu sgil newydd. O fewn 3 wythnos fe wnaethon ni werthu dros fil o becynnau bara! Bu'n rhaid i ni roi ein staff ar ffyrlo ac felly fe ofynnon ni i deulu agos a gwirfoddolwyr i'n helpu ni i greu'r pecynnau yn ddiogel.
Addasu o gaffi 'bwyta i mewn' i siop fara 'tecawê'
Roeddem ni wedi bod yn chwilio ers tro am safle er mwyn gallu pobi a gwerthu oddi yno, ond heb ddod o hyd i'r safle cywir. Gyda'r angen i gadw pellter cymdeithasol yn parhau, roeddem ni'n gwybod nad oedd gennym ni le i'n cwsmeriaid fwyta y tu mewn yn ddiogel. Oherwydd hyn fe benderfynon ni droi ein caffi yn siop fara.
Yn ffodus, roedd gennym ni rywfaint o offer pobi mewn storfa felly'r oll roedd angen i ni ei wneud oedd ailaddurno a gwneud yn siŵr bod y siop yn ddiogel o safbwynt iechyd yr amgylchedd. Yna fe wnaethom ni brynu'r offer ychwanegol yr oedd ei angen arnom ni. Fe wnaethom ni weithio'n galed drwy'r dydd a'r nos am bythefnos a gwneud y gwaith adeiladu ein hunain er mwyn cadw costau i lawr a chynnal ein gwybodaeth. Rydym ni felly'n gwybod sut i drwsio popeth.
Rydym ni bellach yn siop fara ac yn cynnig gwasanaeth tecawê. Mae ein bwydlen yn llai ac mae gennym ni farchnad fwyd gyda seddi y tu allan. Roedd addasu ein busnes fel hyn yn golygu ein bod ni wedi gallu parhau i fwynhau pobi bara a manteisio ar ein sgiliau. Gobeithio y bydd hyn yn golygu y gallwn ni aros ar agor, hyd yn oed os bydd y sefyllfa'n newid eto.
Rydym ni wedi sylwi bod COVID-19 wedi gwneud pobl yn fwy gofalus o ran ble maen nhw'n prynu eu bwyd a sut mae eu bwyd yn cael ei gynhyrchu. Mae ein cwsmeriaid yn gallu gweld ein cegin bobi, ac yn gallu siarad â ni am y cynhyrchion. Trwy fod yn agored, rydym ni'n gobeithio y bydd hyn yn rhoi hyder i'n cwsmeriaid wrth brynu ein bwyd.
Addasu sut rydym ni'n gwerthu
Rydym ni nawr yn gwerthu'r bara i gaffis a bwytai eraill. Rydym ni hefyd wedi cynnal noson gasglu pizza artisan ac wedi gwerthu 70 pizza mewn 2 awr. Yn y dyfodol rydym ni'n gobeithio cynnal dosbarthiadau bara, gan ddysgu pobl sut i wneud toes sur neu bobi bara â chwrw ar gyfer partïon plu a stag. Mae gennym ni sgiliau y gallwn ni eu rhannu.
A wnaethoch chi wynebu unrhyw heriau?
Yn anffodus rydym ni wedi gorfod diswyddo staff. Fel busnes bach, clos, mae wedi bod yn anodd ac yn emosiynol, ac yn rhywbeth nad oeddem ni eisiau ei wneud. Rydym ni'n gobeithio y bydd y newidiadau a wnaethom i'r Bakehouse yn ein helpu i lwyddo yn y dyfodol.
Diogelwch wrth ystyried alergeddau
Er ein bod wedi newid ein bwydlen a newid i fod yn siop fara oherwydd COVID-19, fe wnaethom ni benderfynu peidio â chynnig bara heb glwten oherwydd croeshalogi gronynnau blawd. Rydym ni hefyd wedi gorfod chwilio am gyflenwyr newydd oherwydd bod busnesau'n cau, felly roedd angen i ni ddeall yr holl gynhwysion yn yr eitemau newydd a sicrhau ein bod ni'n gallu ateb unrhyw ymholiadau gan gwsmeriaid. Gan fod Craig wedi gweithio yn y maes gweithgynhyrchu bwyd yn y gorffennol, mae gennym ni wybodaeth wych am alergenau a labelu er mwyn sicrhau bod ein cwsmeriaid yn ddiogel.
Cadw pellter cymdeithasol, hylendid a gwneud yn siŵr bod ein cwsmeriaid yn dawel eu meddwl
Rydym ni'n ymwybodol bod ein cwsmeriaid eisiau clywed am yr hyn rydym ni'n ei wneud yn wahanol oherwydd COVID-19. Rydym ni wedi dewis cyflenwi Cyfarpar Diogelu Personol (PPE) i'n staff fel eu bod yn teimlo'n ddiogel. Rydym ni hefyd yn gwybod bod cwsmeriaid eisiau ein gweld ni'n gwisgo'r cyfarpar iddyn nhw deimlo'n ddiogel.
Er mwyn cadw pellter cymdeithasol ymysg ein cwsmeriaid, rydym ni'n defnyddio system un-i-mewn, un-allan. Rydym ni'n darparu gel llaw wrth y peiriant cerdyn ac yn gofyn yn gwrtais i'r cwsmer beidio â chyffwrdd ag eitemau, heblaw am y rhai maen nhw'n eu prynu.
Rydym ni wedi parhau i roi'r wybodaeth ddiweddaraf i'n cwsmeriaid a'n dilynwyr ar y cyfryngau cymdeithasu am yr hyn rydym ni'n ei wneud, fel eu bod nhw'n teimlo'n hyderus i ddod i'r siop ac yn gallu rhoi adborth i ni. Gan fod y pandemig yn brofiad newydd i bob un ohonom ni, mae'n hanfodol gwrando ar ein cwsmeriaid.
Beth sydd ar y gweill dros y 6-12 mis nesaf ar gyfer eich busnes?
Rydym ni'n gobeithio ehangu elfen gyfanwerthu ein busnes, parhau fel siop fara a dechrau arni gyda'r dosbarthiadau pobi bara. Ac wrth gwrs, dal i gynnig rhywbeth arbennig i'n cwsmeriaid, ond mewn ffordd ychydig yn wahanol.
Gobeithio y bydd addasu ein busnes yn glyfar yn golygu y gallwn ni oroesi'r storm hon.
Cefnogaeth gan y Cyngor
Meddai Pennaeth Dros Dro Safonau Iechyd a Masnach yr Amgylchedd yng Nghyngor Dinas Nottingham, Paul Dales:
'Mae cefnogi busnesau lleol i addasu wedi bod yn flaenoriaeth benodol i'r Tîm Diogelwch a Safonau Bwyd dros y misoedd diwethaf. Rydym ni wedi helpu i ddehongli safonau hylendid a labelu cymhleth i sicrhau y gallai busnesau bwyd addasu er mwyn diogelu cwsmeriaid.
Rwy'n falch iawn bod The Bakehouse wedi bod yn llwyddiannus wrth addasu eu busnes a'u bod yn parhau i ddarparu gwasanaethau bwyd lleol hanfodol i'r gymuned.'