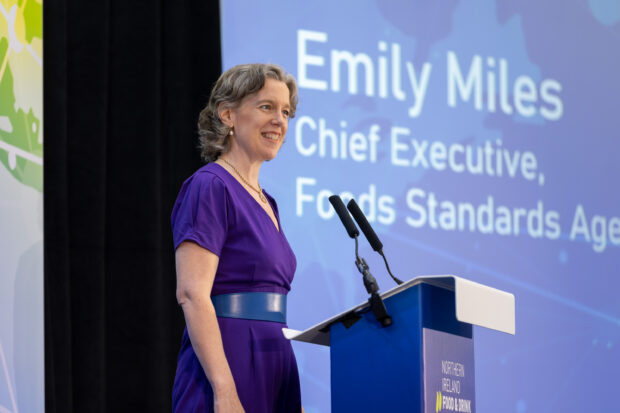 More than 150 delegates from across the food industry and government came together in Belfast last week for the inaugural Northern Ireland Food and Drink Conference.
The event was hosted by the Northern Ireland Food and Drink Association (NIFDA) and sponsored by the Food Standards Agency, the Department for Business and Trade and Invest Northern Ireland.
The issues on the agenda were many and varied, ranging from market trends to the regulatory environment, from nutrition and dietary health to current and future opportunities for sectoral growth.
Collaboration between industry and government was a key theme at the event, viewed as a means of keeping Northern Ireland at the cutting edge of food innovation, quality and sustainability.
Addressing the gathering, FSA Chief Executive Emily Miles said:
I was delighted to be invited to this event, the first meeting of this important forum at what is a key moment for Northern Ireland food industry stakeholders. We are all adapting to a new trading environment, evolving markets and ever-changing regulatory guidelines, not to mention consumer trends.

I am pleased to have been able to meet so many of our key partner organisations face-to-face and to have been able to have meaningful exchanges with them and share insights on meeting our commitments to make sure food is safe, it is what it says it is and is healthy and sustainable. The FSA works closely with businesses in NI, particularly in delivering all the improvements we would like to see in dietary health."

Northern Ireland feeds ten million people but has a population of two million. As an exporter of food, the reputation of NI and that of UK food as a whole, is profoundly significant to your prospects for good business.
Anjali Juneja, the FSA's Director of UK and International Affairs, also attended the conference, said:
It is always great to be in Belfast. I particularly want to thank our NI team for all the work they have put in to ensure this whole event has been such a success and to make the senior management team feel so welcome. Today's event also serves as a timely reminder of the importance of our work to influence international legislation and regulation, support free trade agreements and facilitate imports and exports.
Delegates also heard from, among others, the research organisation Kantar, the Department for Business and Trade and the new UK Food and Drink Exports Council.